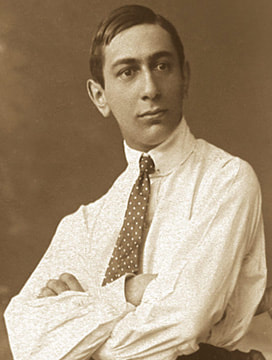 Ernst Lubitsch Biography
​
b. January 29, 1892 in Berlin
d. November 30, 1947 in Hollywood
The son of a prosperous tailor, he was drawn to the stage while participating in plays staged by his high school, which he quit at 16. To satisfy both his own urge to act and his father's desire that he take over the family business, he began leading a double life, working as a bookkeeper at his father's store by day and appearing in cabarets and music halls by night.
In 1911 he joined Max Reinhardt's famous Deutsches Theater, where he rapidly advanced from bit parts to character leads. To supplement his income, he took a job in 1912 as an apprentice and general-purpose handyman at Berlin's Bioscope film studios. The following year he began appearing in a series of film comedies, emphasizing ethnic Jewish humor, in which he played a character named Meyer. He became very successful as a comedian and soon began writing and directing his own films. Gradually, Lubitsch abandoned acting to concentrate on directing and in 1918 he made his mark as a serious director with Die Augen der Mummie Ma (The Eyes of the Mummy), a tragic drama starring Pola Negri. That same year he scored an international box-office hit with Carmen (Gypsy Blood), also starring Negri. But these early achievements could not compare with his great triumph of 1919, Die Austernprinzessin (The Oyster Princess), a sparkling satire caricaturizing American manners.
For the first time he demonstrated the subtle humor and the virtuoso visual wit that would in time become known as "the Lubitsch Touch.'' The style was characterized by a parsimonious compression of ideas and situations into single shots or brief scenes that provided an ironic key to the characters and to the meaning of the entire film. Lubitsch subsequently alternated between escapist comedies and grand-scale historical dramas; he enjoyed great international success with both. His reputation as a grand master of world cinema reached a new peak after the release of his spectacles Madame Du Barry (Passion, 1919) and Anna Boleyn (Deception, 1920). In December of 1921, Lubitsch made his first trip to America, to promote his film Das Weib des Pharao (The Loves of Pharaoh).
Late the following year he arrived in the US again, this time at the request of Mary Pickford, who wanted him to direct her in Dorothy Vernon of Haddon Hall. Upon arrival, he rejected the project and directed her instead in Rosita (1923). While deemed a failure from her point of view, it was enthusiastically received by critics. Lubitsch's next American project, The Marriage Circle (1924), was a resounding triumph and the progenitor of a long succession of commercial and critical hits that made "the Lubitsch Touch'' a household phrase. Lubitsch grasped the American psychology with an amazing accuracy and focused his satire on two main themes -- sex and money. With characteristic laconic wit, he depicted sex as a frivolous pastime, a sophisticated game moneyed people play to occupy their hours of leisure. To be safe, he set his plots against foreign backgrounds -- Paris, Vienna, Budapest -- or some mythical land, but the implication was clearly American and audiences rarely failed to recognize themselves or their friends, their manners, their foibles, their weaknesses. Lubitch's success in Hollywood was astounding. He directed an uninterrupted string of hits surpassing his previous achievement each time. His influence grew with every production, and his sophisticated comedy style was widely imitated by other directors. But none could duplicate Lubitsch at his best -- his incisive pictorial detail, his perfect timing, the nuances of gesture and facial expression that enabled his performers to reveal in a single brief shot the psychology of the characters they were playing.
His chain of triumphs during the silent period -- Forbidden Paradise, Kiss Me Again, Lady Windermere's Fan, The Student Prince, etc. -- remained unbroken even during the delicate transition to sound. If anything, witty dialogue and appropriate music and songs gave additional grip to the Lubitsch Touch. The Love Parade, Monte Carlo, and The Smiling Lieutenant were hailed by critics as masterpieces of the newly emerging musical genre. To everyone's surprise, Lubitsch's next film was a somber offbeat drama, The Man I Killed (later retitled Broken Lullaby), a fierce antiwar document, but he soon returned to his favorite haunt, the sophisticated comedy. While most of Lubitsch's silent films had been made for Warner Bros., most of his early sound pictures were for Paramount. In 1935 he was appointed that studio's production manager and subsequently produced his own films and supervised the production of films of other directors.
In 1939, Lubitsch scored, at MGM, one of the greatest triumphs of his career with Ninotchka, a scintillating political-sexual romp starring Greta Garbo. In 1942 he caused some controversy with his anti-Nazi comedy To Be or Not to Be. The following year he signed a producer-director's contract with 20th Century-Fox, but his work was curtailed by failing health. In late 1944 he had to hand over the direction of A Royal Scandal to Otto Preminger although remaining on the project as the nominal producer. In March of 1947 he was awarded a special Academy Award for his "25-year contribution to motion pictures.'' He died later that year of a heart attack, his sixth. His last film, That Lady in Ermine, was completed by Otto Preminger and released posthumously in 1948. At Lubitsch's funeral, Billy Wilder is said to have pined, "No more Lubitsch,'' William Wyler responded, "Worse than that -- no more Lubitsch films.''
Biography From:
The Film Encyclopedia
by Ephraim Katz. An excellent film reference guide available from:
Amazon.com
---